Som din samarbeidspartner på IT, prøver vi å beskytte din bedrift mot både kjente og nye sikkerhetstrusler. DDoS-angrep er ikke en ny trussel, men forekomsten av DDoS som dataangrep har økt betraktelig den siste tiden.
Det er kanskje ikke mange som kjenner til «Distributed Denial of Service» (DDoS), men det betyr også at få er beskyttet. Vi ønsker derfor å gi deg en innføring i hva det er, hvorfor det er farlig og hvordan man kan beskytte seg.
Hva er et DDoS-angrep?
DDoS-angrep er en raskt økende form for dataangrep der kriminelle truer eller blokkerer bedriftens internett-tilgang hvis det ikke utbetales løsepenger. Som regel skjer et slikt dataangrep, ved at angriper blokkerer dine brukere sin tilgang til nett-tjenester. Eksempelvis e-post eller nettsteder. Som oftest skaper angriperen overbelastning av trafikk på nettverket.
Hvorfor beskytte seg?
Det er kritisk å beskytte seg mot DDoS-angrep, fordi det er den eneste måten man kan være sikker. Angrepene er som regel tilfeldig, men økonomisk motivert. Konsekvensene kan være store for din bedrift.
Hvordan sikre bedriften?
Heldigvis kan vi øke sikkerheten mot DDoS-angrep. I samarbeid med Altibox Bedrift, beskytter vi din internett-kobling, uten at du behøver å gjøre noe mer. Tjenesten leveres som et tillegg, på ditt eksisterende abonnement.
Trafikken overvåkes og det sørges for at legitim trafikk slipper frem, samtidig som uønsket trafikk gjenkjennes og stanses før den får mulighet til å gjøre skade mot kundens tjenester og systemer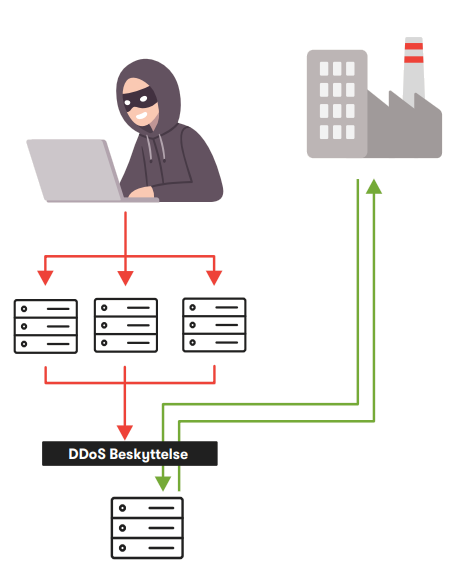 DDoS-beskyttelse for internett-tjenesten til din bedrift leveres i to utgaver – Basis og Premium. Basis-pakken gjelder internettlinjer inntil 1Gbps, og du får med DDoS-beskyttelse og statusindikator. Med Premium-pakken kan du ha linje inntil 10Gbps, og i tillegg får du med rapportering og gull SLA hos Altibox.
Basis
Inntil 100 Mbps – kr 299,- eks. mva.
Inntil 500 Mbps – kr 599,- eks. mva.
Inntil 1 Gbps – kr 799,- eks. mva.
Premium
Inntil 1 Gbps – kr 1990,- eks. mva.
(Etablering kr 1500 eks. mva.)
Fyll ut kontaktskjemaet nedenfor for å få mer informasjon om DDoS-beskyttelse, eller bruk en av våre kontaktpunkter:
ta kontakt med oss